H-311 expander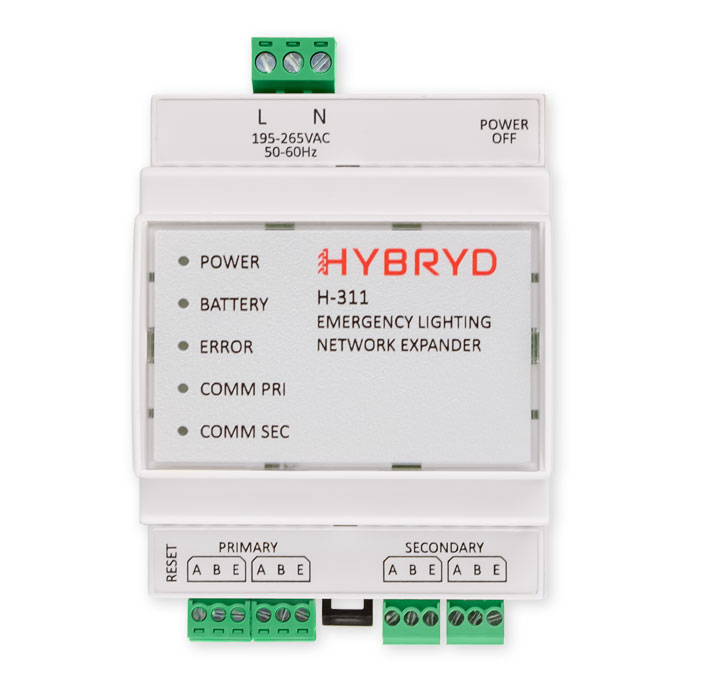 The task of H-311 expander is to extend the system communication network with subsequent communication lines, where other H-311 expanders are placed or emergency lighting luminaires made by HYBRYD.
H-311 expander has two communication terminals which, depending on performance, may operate in CT-BUS or CT-LOOP communication technology. By means of the expander, it is possible to switch between CT-BUS technology and CT-LOOP technology and vice versa. The first terminal is a superior terminal (PRIMARY) and it is used for connecting the expander to the superior appliance. The second terminal is subordinate terminal (SECONDARY) and it is used for connecting other expanders or luminaires.
TECHNICAL DATA
| | |
| --- | --- |
| Supply voltage | 230V AC 50/60Hz |
| Power consumption | < 8VA |
| Power factor | 0,5 |
| Protection class | II |
| Ingress protection | IP20 |
| Maximum bus length | CT - 1000mCT-BUS, CT-LOOP - 1200m |
| Battery | Li-Ion 3,7V / 2,2Ah |
| Emergency operation time | >3h |
| Network topology | CT; CT-BUS; CT-LOOP 1) |
| Ambient temperature | +5ºC – +35ºC |
| Installation kind | DIN rail, 4M; Wall 2) |
| Power supply cable | 0,5 – 1,5mm2 |
| Housing | PC/ABS |
1)
Possible configuration in the software, 2x CT-BUS available only in the CTL version
2)
Power supply terminal must be covered by means of a cable tray
CONSTRUCTION
• The expander has two groups of terminals, communication and power supply
• The appliance elements are placed in the module-type housing dedicated to mounting on the DIN rail, where it takes 4 standard widths or on the wall
• H-311 expander may be mounted in electric switching stations provided that the distance of power supply lines is not shorter than 10 cm
• Supplied using two cables (L, N), cable cross section area 0,5 – 2,5mm
2
, supply voltage is 230V AC 50-60Hz
• Internal Lithium Ion battery guarantee more than 3 hours of operation without external power
• On the front of the H-311 unit a label with the built-in network expander MAC address and ETHERNET interface IP address is placed.