H-237 module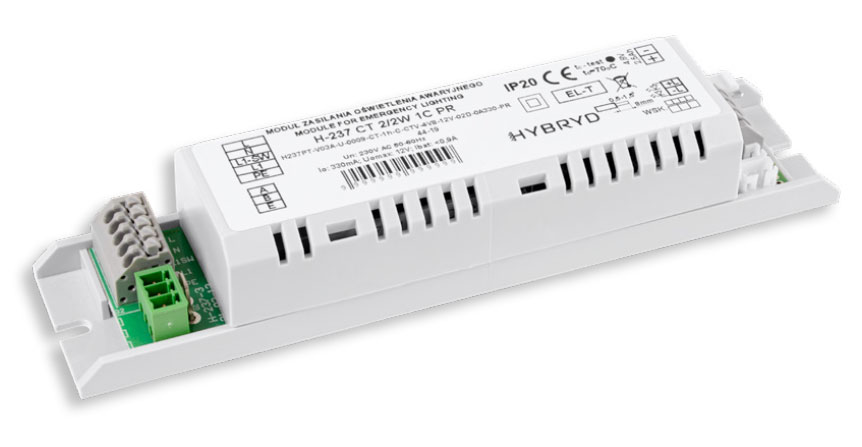 H-237 module is designed for emergency power supply of LEDs in an amount of 1 to 12 with direct current and power up to 10W.
With an additional power supply it is possible to continuously supply the LED module (maintained/basic mode). The compact design of the module enables use in many modern lighting luminaires for the construction of emergency and evacuation LED lighting.
In CENTRALTEST system it works in emergency lighting system with central monitoring.
Features
• A lot of external protections: circuit protection, light source reverse polarity, light source disconnection detection, battery damage or disconnection detection, clear power outage detection (resistance to fractional power outages/power flicker)
• LED signalling (green and red)
• Small size, allows mounting in tight suspended ceilings
• Versatility of operation in various system structures: AUTOTEST, CENTRALTEST
• Wide range of supported light sources – from single power LED to multi LED matrices
• Maintained operation mode, non-maintained (power adapter required) or night mode (power adapter required)
• Simple connections – screwless connectors, plug sockets
• Compatibility with most LED power supplies
TECHNICAL DATA
| | |
| --- | --- |
| Supply voltage | 230V AC 50-60Hz |
| Power consumption | < 7VA |
| Protection class | II |
| Ingress protection | IP20 |
| Output power | 1 – 10W |
| Output current | 0,05A – 1A |
| Output voltage | 12V, 15V, 24V, 43V |
| Battery type | Ni-Cd, Ni-MH |
| Battery voltage | 4,8V; 8,4V |
| Battery capacity | 1,0Ah; 1,5Ah; 2,5Ah; 4,0Ah |
| Emergency operation time | 1h, 2h, 3h |
| Battery recharging time | 16h – 24h |
| Ambient temperature | -10 – +55°C TE: 1) -25 – +60°C |
| Cable connections | 0,2 – 1,5 mm2 |
| The maximum length of cable to the LED module | 1m |
| Supply cable cross-section area | 0,5 – 1,5mm2 |
| Housing material | ABS |
1)
TE – extended temperature range
BATTERY CAPACITY
| | | | |
| --- | --- | --- | --- |
| Power / Emergency operation time | 1h | 2h | 3h |
| 1W | 4,8V/1,0Ah | 4,8V/1,0Ah | 4,8V/1,0Ah |
| 2W | 4,8V/1,0Ah | 4,8V/1,5Ah | 4,8V/1,5Ah |
| 3W | 4,8V/1,5Ah | 4,8V/2,5Ah | 4,8V/4,0Ah |
| 5W | 4,8V/2,5Ah | 4,8V/4,0Ah | – |
| 6W | 8,4V/1,5Ah | 8,4V/2,5Ah | 8,4V/4,0Ah |
| 10W | 8,4V/2,5Ah | 8,4V/4,0Ah | – |
INUMBER OF LEDs
| | | | | | | | | | | | | |
| --- | --- | --- | --- | --- | --- | --- | --- | --- | --- | --- | --- | --- |
| Power / Number of LEDs (3V) | 1 | 2 | 3 | 4 | 5 | 6 | 7 | 8 | 9 | 10 | 11 | 12 |
| 1W | * | * | * | * | * | * | * | | | | | |
| 2W | * | * | * | * | * | * | * | | | | | |
| 3W | * | * | * | * | * | * | * | | | | | |
| 5W | | * | * | * | * | * | * | | | | | |
| 6W | | * | * | * | * | * | * | * | * | * | * | * |
| 10W | | | | | * | * | * | * | * | * | * | * |