ST - STANDARD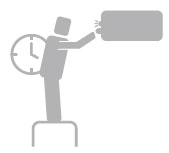 This is the simplest version of the escape emergency lighting luminaire. The luminaires are equipped with a green diode signalling the battery status:
Lighting diode – charged
Flickering diode – charging or disconnected
Not lighting – damaged
In addition, they are equipped with a test press button (physical or magnetic) enabling the performance of tests. The test is started manually.
Evacuation luminaires and emergency modules in the STANDARD version are dedicated both to companies and private clients for use in places where the fire regulations do not impose such an obligation.
The interest in luminaires and modules in the STANDARD version is very high. This results from the fact that it is the cheapest and simplest type of emergency lighting and using it in small utility buildings raised their comfort and safety.
Also private persons often install the STANDARD luminaires at their homes, offices, garages and basements.
These appliances make use of the microprocessor system and the battery. The system controls battery charging, at the same time taking care of its condition and readiness to work. It also conducts the functionality test (TEST A) started by means of the press button located on the housing or a magnetic switch.
Emergency modules may also be performed in the STANDARD version. The use of these modules in the basic lighting luminaires, make them obtain the emergency lighting functionality.